Dilled Green Tomatoes are a great way to use up those end of season 'maters that just won't turn red and a good introduction to food preservation.  These are among the easiest things I have ever canned up and I can recommend trying this recipe to anyone looking to get into food preservation. This recipe is from the Ball Complete Book of Home Preserving
, I can't say enough about this book and if you don't have it already get it (Following the link helps a brother out to boot!)!!! Refer to it!!!http://www.thebackyardpioneer.com/wp-admin/post.php?post=1305&action=edit
Dilled Green Tomatoes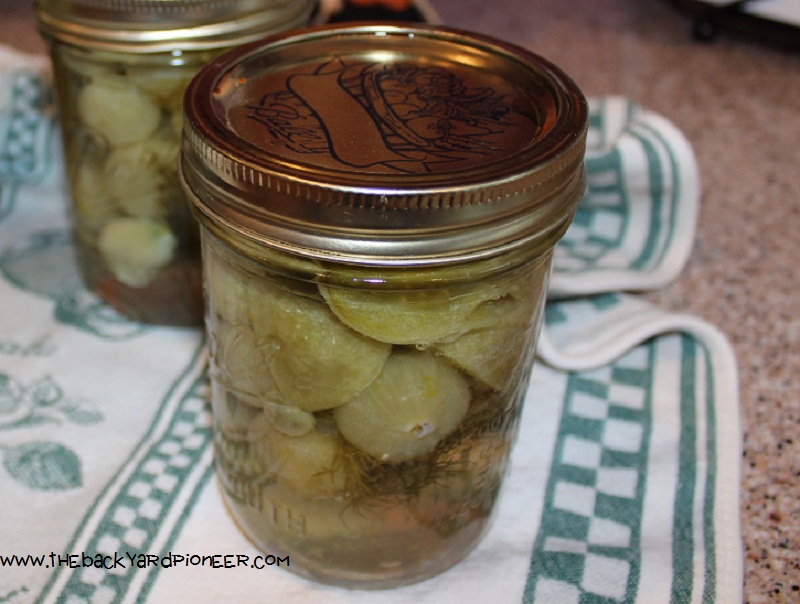 The Ingredients
Green tomatoes (halved, quartered, or whole cherry tomatoes)
Dill Heads (enough for 5-6 heads per pint)
Garlic (1 clove per pint)
Bay Leaves (1 per pint)
3 1/2 C. Water
3 1/2 C. White Vinegar (5% strength)
1/4 C. Pickling Salt
The Process
Pour the water, vinegar, and salt into a 3qt sauce pan and bring to a boil
Sterilize the jars
Into the sterilized jars put a clove of garlic, 5 0r 6 dill heads, a bay leaf, and tomatoes. Fill the jars leaving a 1/2″ of headspace.
Ladle the hot brine into the jars still leaving 1/2″ of headspace. Use the back of a wooden spoon to tamp out any bubbles. Wipe the rims with a clean towel.
Put on the lids and hand tighten the bands.
Process the pints for 15 minutes. At the end of the 15 minutes turn off the heat and remove the cover, let them sit another 5 minutes in the hot water.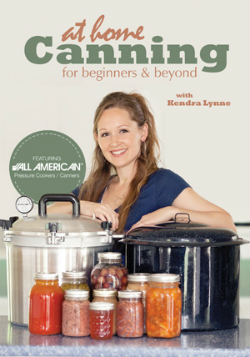 Click here to visit At Home Canning For Beginners and Beyond.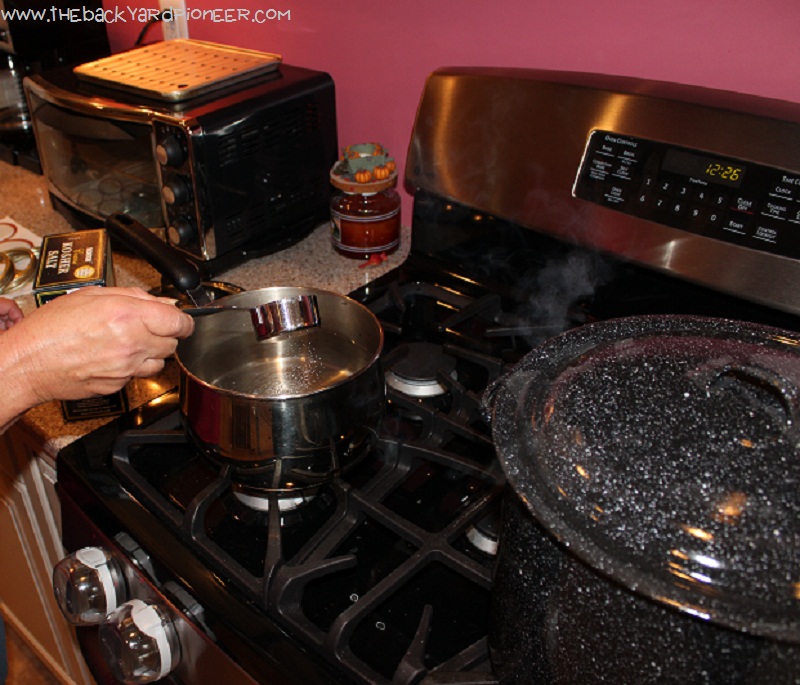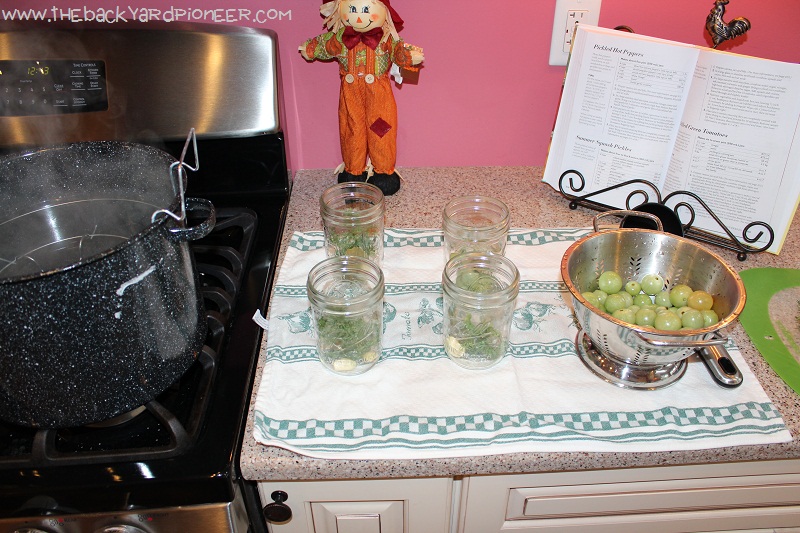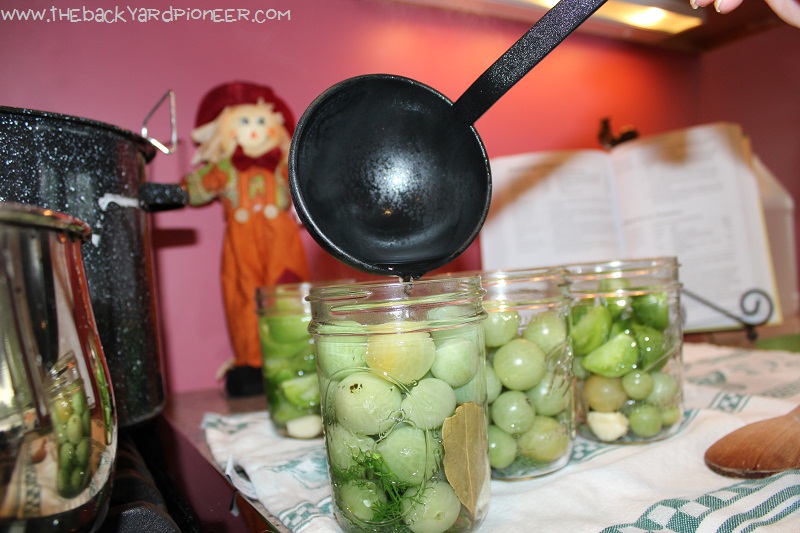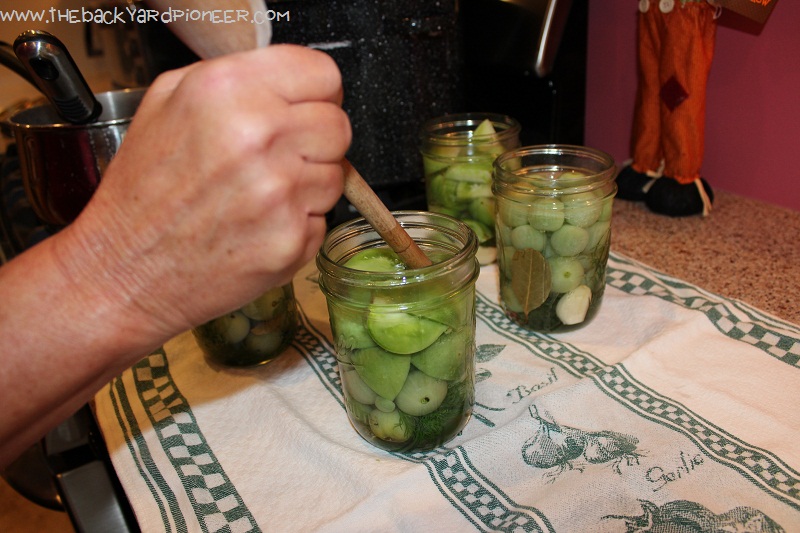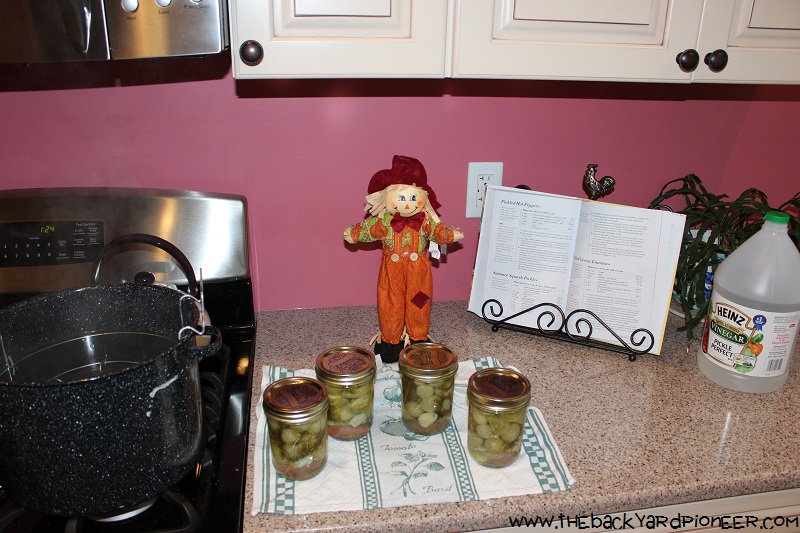 The Wrap-Up
These were super easy to make. As always I recommend referring back to a tried and true published recipe as canning is a safe way to preserve food but it isn't a place to freelance it! The hardest part of this recipe is going to be waiting the 3 weeks to give them a try!
Affiliate Disclosure: I am grateful to be of service and bring you content free of charge. In order to do this, please note that when you click links and purchase items, in most (not all) cases I will receive a referral commission. Your support in purchasing through these links enables me to keep the content train rolling