The  Surefire G2 Nitrolon
is a good solid light, and after taking it camping a living with it for a few weeks, I feel comfortable chiming in my 2 cents with a Gear Review.
I was in the market for a new light for my wife for camping and our at home emergency kit. I've been a fan of Surefire products for a few years now and they were my first choice. The G2 Nitrolon fell into the price point that I was looking to spend. My personal light is a SureFire G2X Pro LED
and I felt comfortable getting another G2 as my light has done all I've needed it to do. I've had some problems with alkaline batteries lately and wanted the long life and no leaking of a Lithium battery so the CR123A batteries were a plus for me.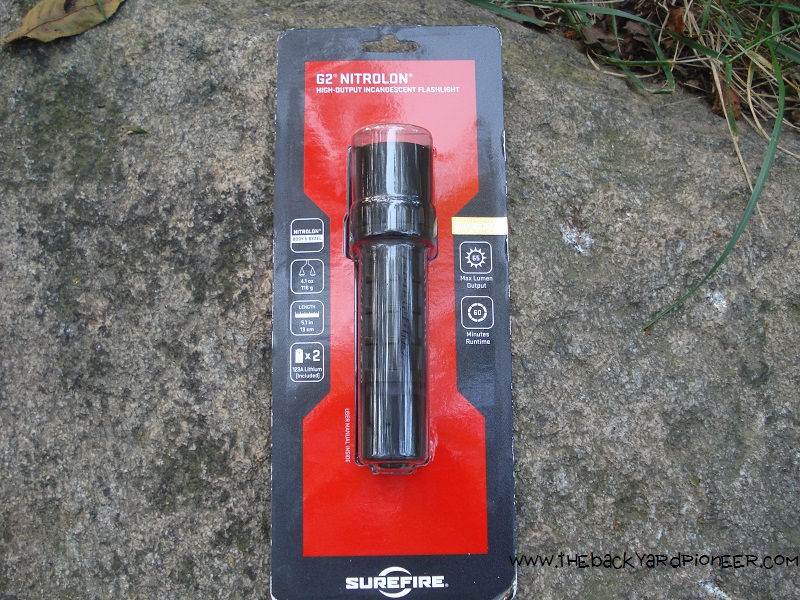 Fit & Finish- The G2 is built with typical Surefire quality. The Nitrolon is tough and light, and I'm comfortable with it standing up to hard use as I've carried one for a while now.
Light- Here is where I was a bit disappointed with the G2. I've grown use to the light from my G2X. The G2 throws a very nice beam but I find the "old school" Xenon bulb lacking when compared to the newer LED models. When I had them side by side in the woods the regular G2 came off as feeling dated. Compared to regular lights the G2's 65 Lumens is still head and shoulders over them, but can't stack up against the new quality lights.
Battery Life- This was the nail in the coffin for me. The G2 only has an hour run time with the Xenon bulb. The G2X in it's low power mode has run time of 45 HOURS and even on the super crazy bright 200 Lumen mode has an hour and a half run time. This alone is enough of a reason for me to spend the few extra bucks and step up to an LED version.
If this was 5 years ago I'd give the G2 a 5 out of 5 Stars as it is a great light but it has been surpassed by better options, so now I can only give it a 2 out of 5 Stars. The only brightside (no pun intended) is that there are a slew of upgrades for this light that I intend to explore and more blog fodder is always appreciated.
If you like what you read here on The Backyard Pioneer please consider subscribing to receive e-mail notifications or check me out on Facebook, Twitter, YouTube, Pinterest, or my RSS Feed. All of these are available on the top right of this page. -Thanks for reading, Mike
Affiliate Disclosure: I am grateful to be of service and bring you content free of charge. In order to do this, please note that when you click links and purchase items, in most (not all) cases I will receive a referral commission. Your support in purchasing through these links enables me to keep the content train rolling