With my Ruger 10/22 rapidly approaching an age where it could vote I felt it was time for a freshening and a gear review. I carefully choose the aftermarket parts that I felt would give me the best bang for my buck and a little CGCDI (Cool Guy Chicks Dig It) factor. Here is what I put together:
Project Ruger 10/22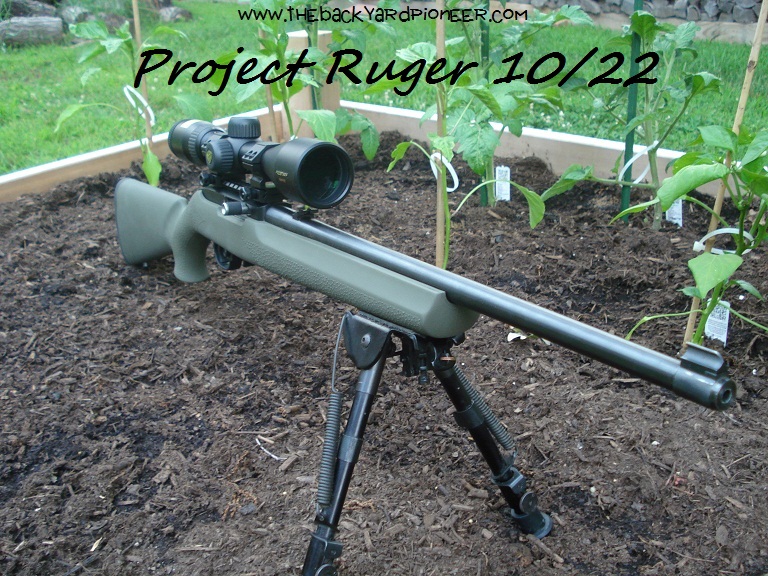 New Stock
I'm hoping that she shoots as good as she looks. The most visually striking part of the rebuild is the Hogue Overmolded Stock Rubber in Olive Drab. The soft rubber of the stock is "grippy" and a great upgrade over the ancient Butler Creek stock that I had on the rifle. This new stock seems to fit me much better and I find that it is much more natural to bring to my shoulder.
Fancy Scope
The other eye catcher is the Nikon ProStaff Rimfire 3-9 x 40 scope. I've never had a scope on this rifle but as concession to my aging eyes and the upgrade of this rifle from plinker to serious hunting rifle I went with a nice piece of glass. The Nikon is set-up specifically for .22 Long Rifle with circles on the recticle for use with different ammo and  for sighting in at ranges  up to 150 yards.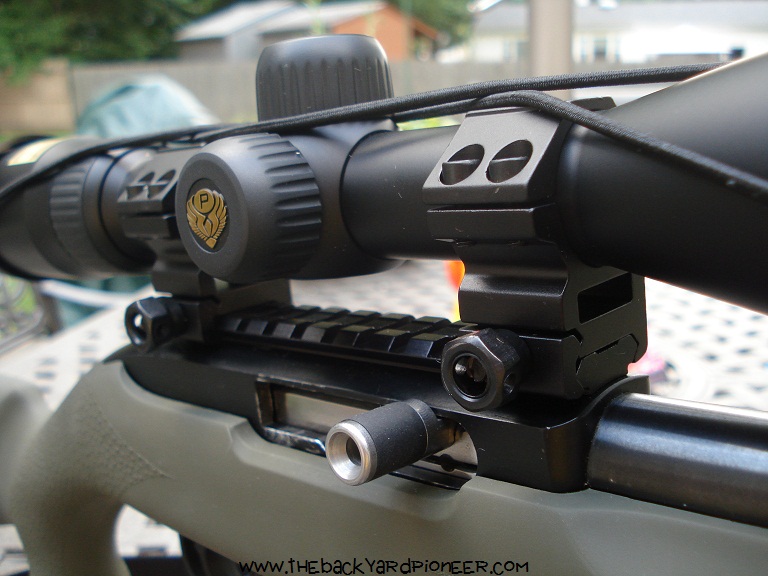 Improved Bolt Handle
This shot shows the 10/22 Bolt Handle By Kidd this is a functional and stylish upgrade. It is a 1/4″longer than the stock one and a whole lot prettier. It also comes with a new guide rod which is machined to tighter tolerances than the stock one and it is nitride coated to make it very slick. The bolt practically glides back and forth now and I can't wait to get some rounds down range.
Weaver Base and Good Scope Rings
AccuShot Premium 1-Inch Weaver Style See-Thru Medium Profile Rings and the Weaver Multi-Slot Base System can also be seen. I went with the medium profile rings because the 10/22 is such a small rifle and I've got a big head! These rings let me find a more natural shooting position and the perfect eye relief. The Weaver System is another of those upgrades which is part bling and a whole lot of function. It looks cool and allows the scope to be removed nice and easy with out opening up the rings, so hopefully I won't lose my zero if I'm careful.
Custom Trigger Assembly
This shows the real heart of the upgrades the Hornet Custom SPITFIRE
. The Hornet replaces the old OEM trigger. 10/22's come with a 6-8 lb trigger pull, the Hornet reduces this to a nice and crisp 2-3 lb pull. The Hornet also includes many of the popular aftermarket upgrades in an easy drop-in package. With the Hornet I got an extended magazine release, an auto-release for the bolt, and the bolt hold open is a bit bigger for my large fumble fingers. The Hornet also has a sharp looking polymer trigger guard.
I'll be getting down to the range with my Ruger 10/22 one night this week for a bit of trigger time. I'm in love with this build so far and hope it shoots as well as it looks.
If you liked this, you might like: Phoenix Home Defense Shotgun: Part 2
Affiliate Disclosure: I am grateful to be of service and bring you content free of charge. In order to do this, please note that when you click links and purchase items, in most (not all) cases I will receive a referral commission. Your support in purchasing through these links enables me to keep the content train rolling