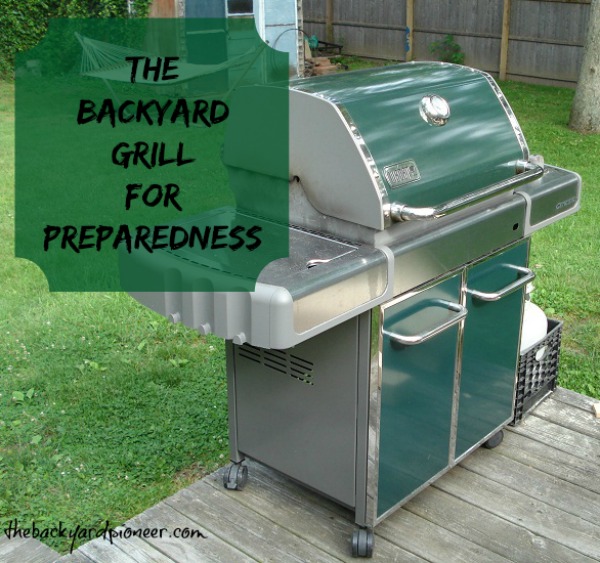 The Backyard Grill For Preparedness
An important part of my emergency preparedness plans is my trusty backyard grill. Having been through a few nasty winter storms and mostly recently Hurricane Irene.  I feel that the grill where you cook your burgers and dogs can be so much more.
Learn to grill with indirect heat – If you can learn how to cook over indirect heat and how to maintain a desired temperature a world of cooking can be opened up to you. No longer will you be limited to typical cook out fare but the world of roasting and baking outdoors will be yours.
Side Burner, Side Burner, Side Burner! – Need a handy place to boil water for purification or to wash the dishes, don't overlook the side burner. I used it every night we were without power from Hurricane Irene. With the power out I didn't see the need to boil a ton of water in the house and heat it up with no a/c.
Learn how to make bread on the grill – I make an easy grill bread and have recently started baking loaves out on the grill. Now I've got the ability to turn the most basic of ingredients into something warm and satisfying all without power!
Clean it!
Now if you are going to approach your grill as a serious part of your preps there are certain things you need to do with it. No longer can you "ride it hard and put it away wet". A greasy nightmare might be okay for whipping up a few burgers but like any of your preps it needs to be taken care of and kept ready. Who wants to be degreasing the grill when time really counts.
Store fuel for it!
Keeping a store of fuel becomes more important. I keep 3 tanks in rotation, 1 on the grill and 2 ready to go out in the shed. Running out of LP might be cringe worthy when the steaks aren't done yet, but when everybody and their mother is running out for supplies won't it be nice to kick back and know that you've got 2 full propane tanks out in the shed, ready to get you through weeks of cooking needs.
Take care of it!
Maintaining the grill becomes a priority. Get to know the different parts and consider keeping a few on hand. I've got extra "flavor bars" and a regulator stashed for hard times. My grill also use a battery for ignition, so I've got a few extra taped to the inside just in case. Matches also come in handy just make sure you can do it right without burning off your eye brows.
Buy quality!
Now, I can only really recommend one brand and that would be Weber. They are expensive but their lives are measured in decades (unlike a lot of other brands) and Weber's customer service is top notch.
The Wrap-up!
So there you have my reasoning behind including my grill as an important part of my preps. Whether for cooking or sanitation a grill can be a lifesaver in a time of need and I think they deserve to be taken seriously.
My recipe for quick and easy grill bread
Affiliate Disclosure: I am grateful to be of service and bring you content free of charge. In order to do this, please note that when you click links and purchase items, in most (not all) cases I will receive a referral commission. Your support in purchasing through these links enables me to keep the content train rolling