Smoking A Pork Butt
Being on vacation this week I finally had the time to get around to smoking a pork butt and putting another notch in my homestyle cooking belt. I've been meaning to give this a try for a long time as it really appeals to my "wanna be" redneck side and my frugal side. Since smoking allows you to turn those cheap (like anything is really cheap these days) pieces of meat into sumptuous meals.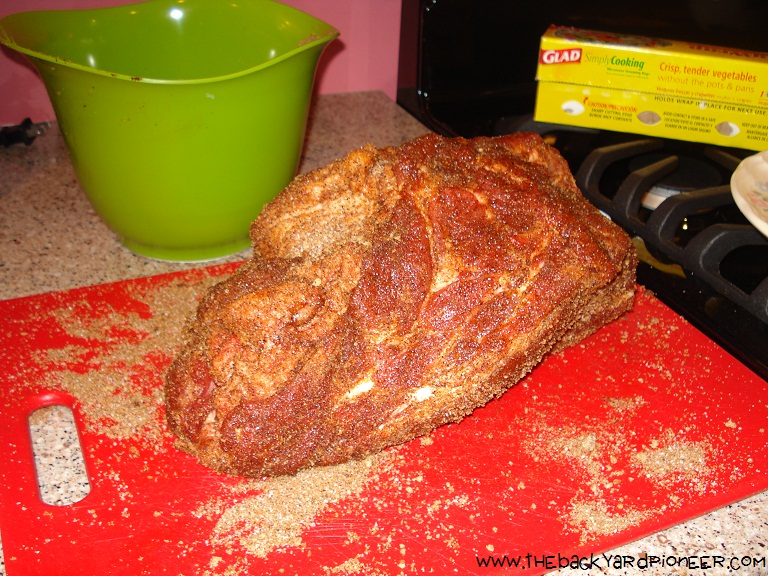 I started with a 5 pound pork butt. I read a few recipes on different dry rubs but felt that the true essence of BBQ was striking out on your own and listening to your own spice voice. My spice voice just happened to be whispering.
The Spice Rub
1/3 c Brown Sugar
1/3 c Paprika
2 tbs Kosher Salt
1 tbs Black Pepper
1 tbs Chili Powder
1 tbs Ground Cumin
The Recipe
This gave me a sweet, salty, and smokey flavor. I rubber it all over the butt, paying attention to get it into all of the nooks and crannys. I then wrapped the butt tightly with plastic wrap and put it into the 'fridge for a 18 hours.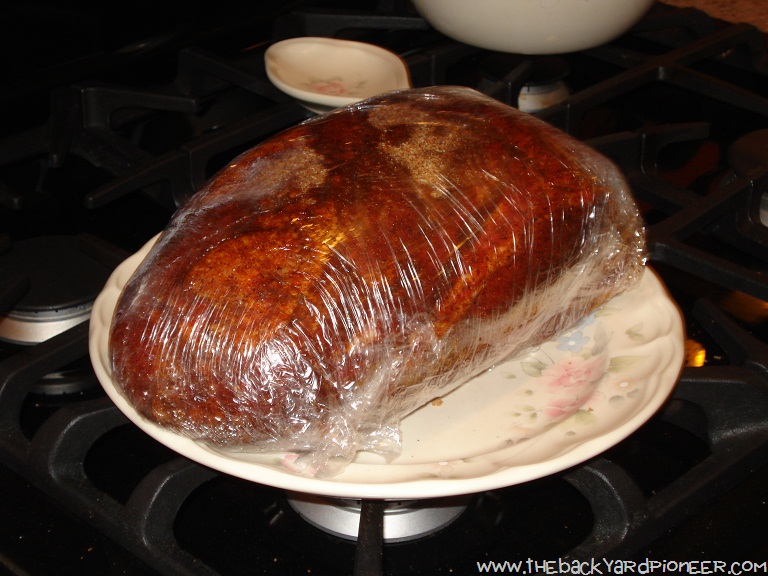 Getting the meat ready turned out ot be the easy part of the whole smoking process. Since I'm a wide eyed idealist I thought the cheapo smoker I borrowed from my buddy would be a snap to use…I was wrong. the day started at 6:30 am as I got the coals ready and started to bring the smoker up to temperature.  This really was a case of me being to smart for my own good, I had read how hard the cheap offset smokers (COS) were to use, but I thought I was better than that…I thought wrong. I did make a few quick mods to the smoker with tin-foil before I started. I wrapped the rack nearest the smoker inlet in foil and bunched the ends a bit to create a tunnel to get more smoke and heat to the meat.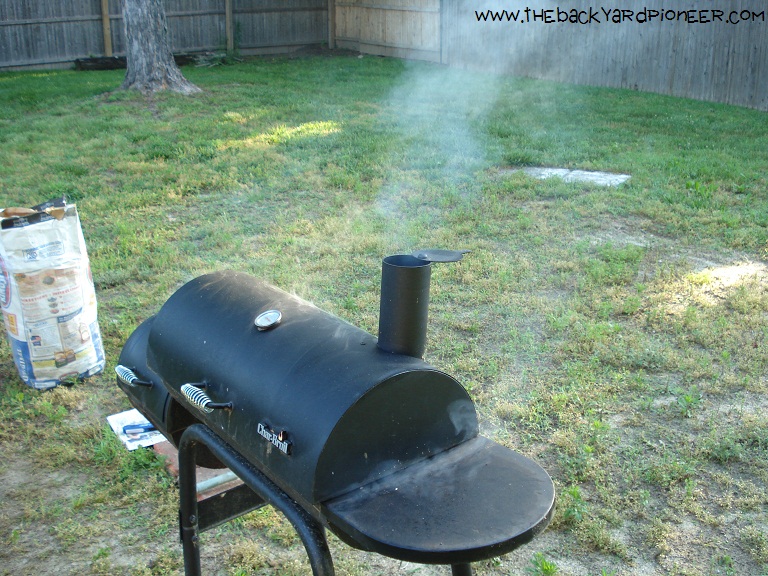 As you can see from the photo my biggest problem turned out to be heat and smoke loss from everywhere but the chimney. I ended up having to baby-sit the smoker almost every 15 minutes and constantly make adjustments to the air intake and the amount of coals in the fire box. I was adding a handful of hickory chips every hour as well. My temperature swung wildly between 200-300 degs but I can proudly say I did average right around my target of 225 but this was a war between me and the smoker. I waited 4 hours to even lift the lid a bit as I was trying not to lose any of my precious heat. This is what I found: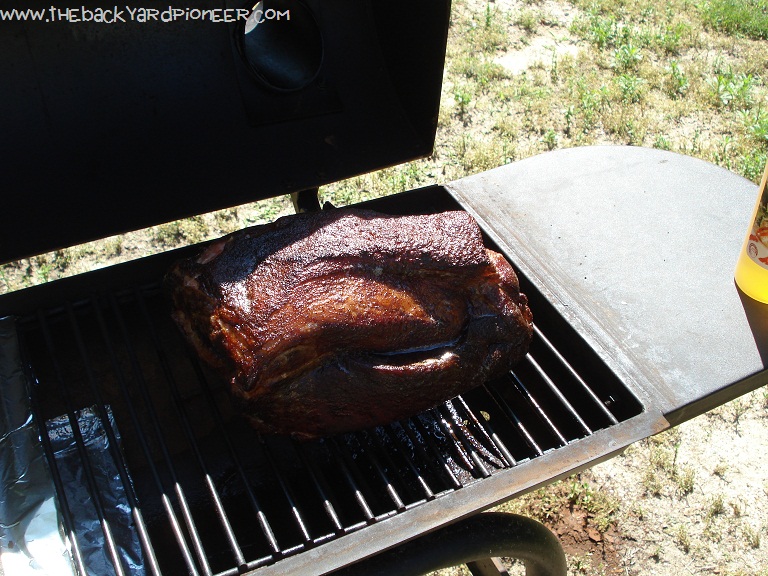 I was PUMPED! The smells were incredible. I rotated the butt and gave it a squirt of apple juice to keep it moist. I had to wrestle some more with the temps but I sort of found a rhythm of, adding more coals and bringing the temp up before I needed to lift the lid to apply the apple juice. All in all cooking time was 7 hours on the smoker, this gave me an internal temperature of 185 degs. When it was done it looked just like they do n TV.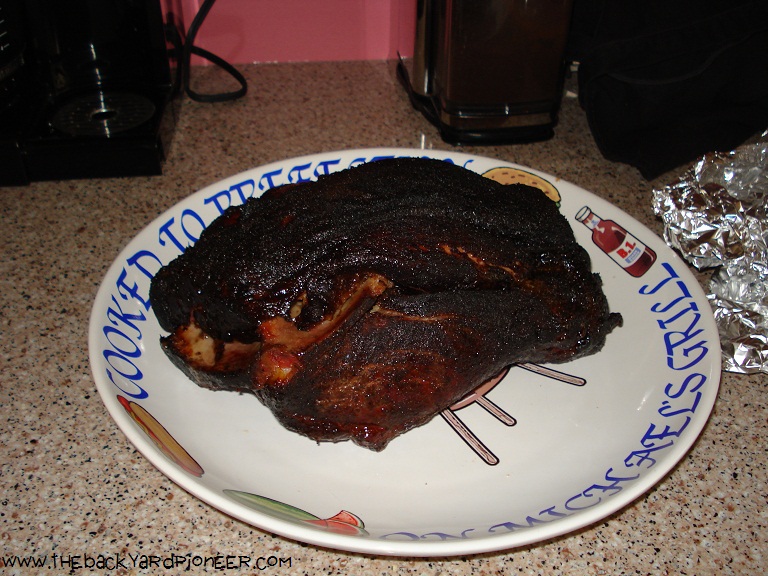 It came out perfect, the bone pulled right out and it shredded easily with a fork. I made a BBQ sauce and we served it on soft rolls with coleslaw. I was in heaven!
I have to thank Amazing Ribs as if it wasn't for their site this never would never have come out as well as it did. This picture says it all…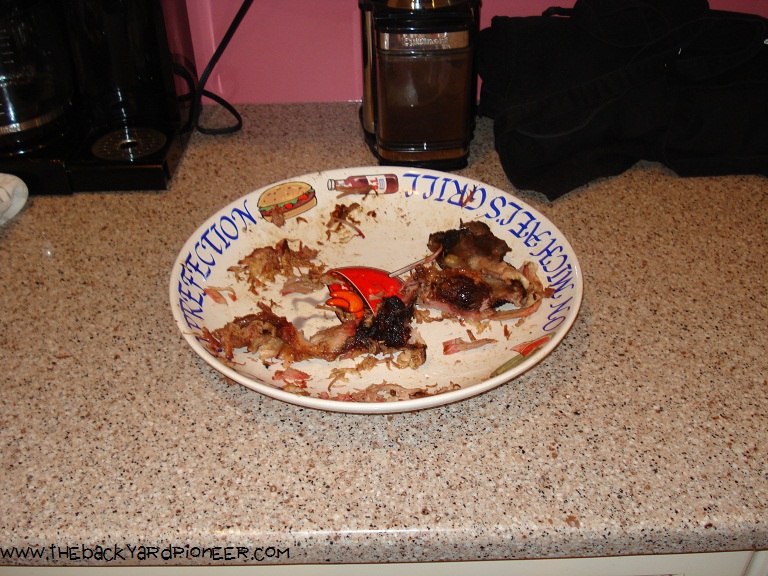 Affiliate Disclosure: I am grateful to be of service and bring you content free of charge. In order to do this, please note that when you click links and purchase items, in most (not all) cases I will receive a referral commission. Your support in purchasing through these links enables me to keep the content train rolling