Now, the Ruger 10/22 is a fine little rifle and has served me admirably as a plinker and small game gun for longer than I care to admit, but it is time to correct a few mistakes I made in my youth, so now I unveil The Twenty Year Plan for my Ruger 10/22. I'll do a Gear Review on it once I've gotten it all together.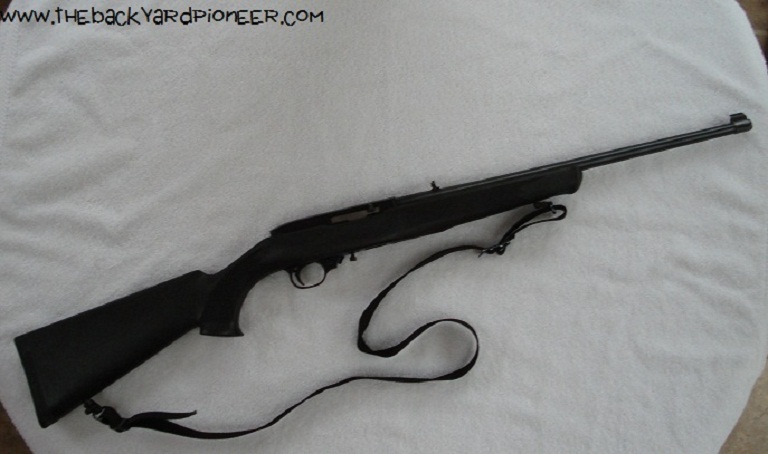 Somewhere along the way I changed out the nice Birch stock that came with the rifle for a cheap Choate stock. This stock never really fit me right, and it just feels CHEAP! I'm planning on upgrading to a Hogue stock with their excellent over-mold which gives a nice grippy-ness to the rifle and just feels good in the hand.
The one real trick part of my rifle as it sits now is the magazine release. My friend Rob did this little trick modification many years ago before the extended mag releases hit the aftermarket. Rob (it pays to be friends with an actually evil-genius, who has a drill press) drilled and tapped the button and added the Allen head screw so our big sausage like fingers could actually operate the mag release. I'll be adding one of the trick aftermarket extended bolt handles too.
The big bucks on this little refurb will be spent on a new trigger assembly. The Ruger one works well, but after who knows how many rounds and general wear, I'm going to splurge and step up to a new trigger assembly. I haven't narrowed it down yet but the new assembly will make the most difference on this rifle. The new trigger will be crisp and clean, and not like the sloppy one that I've currently got.
Also on the wish list is a new scope and rings. I'll see what the rest of the build costs me and that will determine what I've got to spend on the optics. I'd really like this trick Nikon set up just for .22lr but we'll have to see what the funds  allow.
So stay tuned as I get this project going. I'm thinking of renaming the rifle The Phoneix! To dramatic?
If you like what you read here on The Backyard Pioneer please consider subscribing to receive e-mail notifications or check me out on Facebook, Twitter, YouTube, or my RSS Feed. All of these are available on the top right of this page. -Thanks for reading, Mike
Affiliate Disclosure: I am grateful to be of service and bring you content free of charge. In order to do this, please note that when you click links and purchase items, in most (not all) cases I will receive a referral commission. Your support in purchasing through these links enables me to keep the content train rolling