Interview With Jason Akers of The Self-Sufficient Gardener
Jason Akers the head honcho over at The Self-Sufficient Gardener was kind enough to answer a few questions for me. Jason's bio in his own words:
Jason Akers is The Self-Sufficient Gardener (as much as one can be!)
In 2009 after a job loss and the subsequent economic crisis I set about documenting and relaying my 33 years of knowledge in the realms of gardening, hunting, fishing and other food gathering activities.  Using the show motto of Efficient, Responsible and Sustainable I began to refine that lifetime of knowledge into methods of food production that were achievable for even people who had no experience with such things. 
My geographic location is Western Kentucky where I am currently working on a food production system on my 4 acres adjacent to Kentucky Lake.  I currently live nearby with my wife (Gretchen) and young son (Jackson).  My day job as a Quality Manager has given me a unique perspective on building sustainable processes that are both foolproof and efficient. 
So join me and don't be afraid to jump in or ask questions.
concordia salus
Now on to the questions-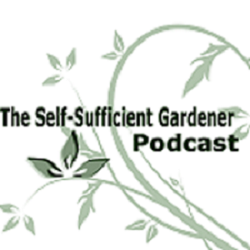 1- What is the most common mistake new gardeners make and how can they
avoid it?
Believing that they can spray their garden pest free.  No matter what the insects win.  There's a reason that cockroaches can survive the apocalypse.  They are built to survive smarter larger organisms though sheer adaptation.  People can avoid this by building the proper habitat for the only thing these insects are susceptible too – their own kind.  Leave wild areas in the garden.  Love your weeds.  Grow flowering things.
2- What is the one garden tool you can't live without?
That's a tough one.  Probably just my garden trowel.  I use a stainless steel version.  I do like my hoe though.  I use a rogue hoe.  Its made from a agricultural disc blade.  Its indestructible. 
3- You mention your son on your podcast, how are you getting him
involved in the garden?
Its funny you should mention that.  I was working on a blog post yesterday because my son and I were starting seeds.  I basically ask him anytime I?m doing something in the garden if he wants to help.  Sometimes he says no but more often he says yes.  I teach him history, math, reading all just by gardening with him.

 

It really worries me that there don?t seem to be more kids interested in gardening.  I see a shift similar to what happened with kids moving away from hunting and fishing when I was growing up.  I intend to do something about it ? I just don?t know what yet. 
4- What would you recommend growing in the garden with an eye towards
self-sufficiency (ease of growing, yield, storage life)?
I?m not a very good canner.  I tend to grow things usually just for immediate fresh use.  But I do can a lot of tomato sauce.  I really like zucchini for self-sufficiency.  There are so many ways to eat it.  It produces like crazy and you can?t kill it.  My son and wife love it so that helps too.  Other good choices ? potatoes, carrots, turnips for storage.  Lettuce, spinach and herbs for saving money. 
5- I've got dreams of moving to acreage someday. How did you convince
your wife to move to a tiny cabin out in the sticks, and can you talk
to my wife?
Hahaha, convince her!  She still believes she convinced me!  No basically I had a health scare last year about this time.  We had been working on the cabin as a weekend spot for a year or so at that point.  I was tired of suburbia.  The neighbor?s kids were partying in my yard and collectively I had to deal with about 7 dogs barking at me while I worked in the garden.  So I think she knew if we had to stay any longer I?d kill someone ? maybe her!  LOL

In all seriousness I think a good case can be made by anyone.  If you have less debt and no huge house payment you get a lot of security.  In 2009 we both lost our jobs within a month of each other.  Plus with no house payment all of that money can go toward vacations or actually living a life.  Then of course you can grow more food and keep your whole family healthier.  I think when you take the few hardships you have to suffer out of the equation most people want to be where there are trees and animals and nature.  We get hung up on the little hardships though and that?s what stops us.
Many thanks to Jason for answering a few questions. His Podcast and Blog are well worth checking out.
Affiliate Disclosure: I am grateful to be of service and bring you content free of charge. In order to do this, please note that when you click links and purchase items, in most (not all) cases I will receive a referral commission. Your support in purchasing through these links enables me to keep the content train rolling