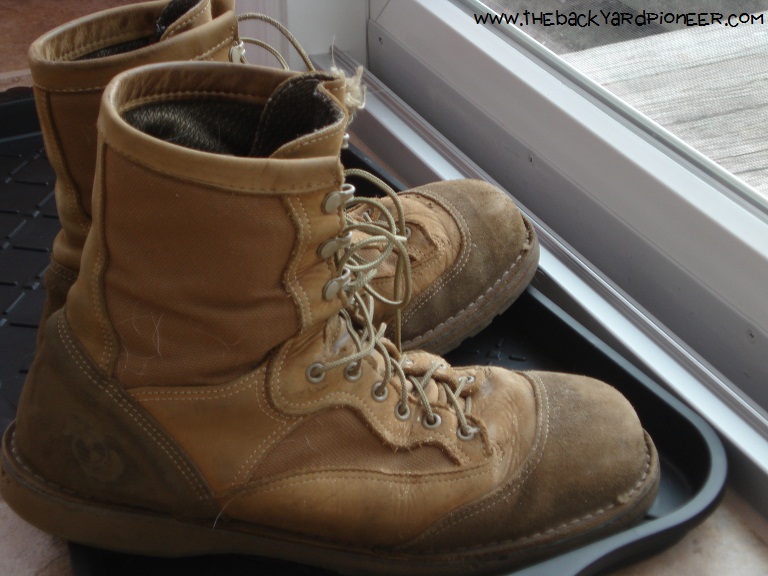 A good pair of boots will pay you back many times over the course of their life. In my 16 years as a Lineman I've worn a broad selection of brands, and run the gamut on prices. I've put the soles to the ground everyday and feel qualified to share my observations.
I like my boots to be rebuildable. This knocks out a lot of brands and limits style selection, but I feel these are the best boots. If I'm going to plunk down my hard earned cash I want to be able to wear my boots for a LONG time. Rebuildable boots will have the soles stitched on instead of glued.Nothing is more annoying than having a sole come unglued and to be flapping in the breeze. I also like a Vibram sole. I want to be able to put some mileage on my boots before they go into the shop, plus the big knobby lugs keep you going when the road ends.
I look for a pair of boots with a good speed lace set up. Right now I'm loving the military style as one good yank tightens my boots and protects my ankles. The open eyelets are good, but I think the military style edges them out. I steer clear of traditional laces at all costs. They are for dress shoes and sneakers not a serious pair of boots.
As with anything if you take care of your boots they will take care of you. Some attention now and again will extend the life of your boots and protect your investment. I like to clean up my boots at least once a week with a soft brush and a damp cloth. If they call for oil (like Redwings) I make sure to oil them once a month. Ultimately I'd love to get two pairs and alternate wearing them. One of the senior Linemen swears that this method more than doubles the life of both pairs. I'm hoping to give it a try some day.
A good pair of boots that are properly fitted will be a joy to wear. They'll protect your feet and ankles, and keep you working, hiking, or hunting longer and in comfort. They aren't cheap but they are worth it.
Affiliate Disclosure: I am grateful to be of service and bring you content free of charge. In order to do this, please note that when you click links and purchase items, in most (not all) cases I will receive a referral commission. Your support in purchasing through these links enables me to keep the content train rolling