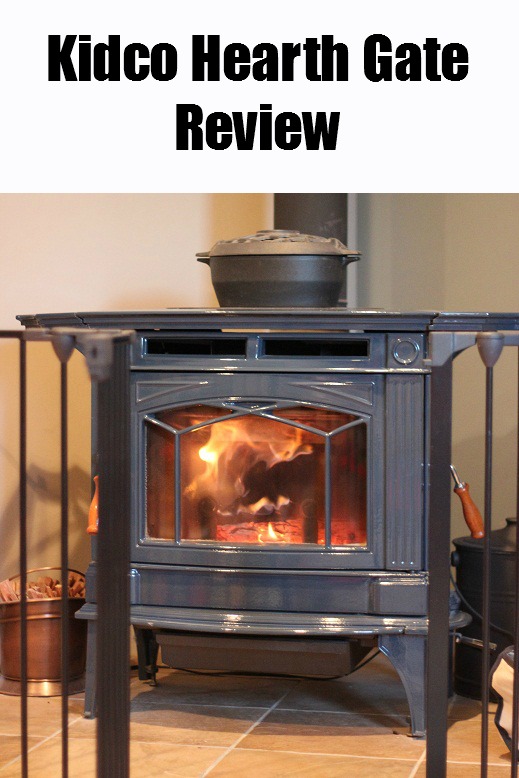 Kidco Hearth Gate
If you are a wood stove owner and a parent of young children you know that heart stopping moment watching your baby lunge towards your red hot stove! If you are like me you want to balance safety, the benefits of wood heat, and not having your kids live with you forever due to disfiguring burns. I believe the KidCo Hearth Gate
is answer!
For fireplaces and irregular shaped areas
Hardware mounted
Made of strong tubular metal
Attractive plastic, non-toxic finish
Includes a single one-hand open gate that swings in both directions
Kidco Hearth Gate In Use
The Kidco Hearth Gate is well made and attractive. It adjusts at 2 degree increments and the 24″ sections are removable to customize the size you might need around your own stove, insert, or fireplace. We needed to get the optional 8″ Extension
for our Kidco Hearth Gate because of having the stove set in the corner and a Baseball Diamond shaped hearth. The extension gives the Kidco Hearth Gate a custom installed look and my wife is happy with the aesthetics.
The door on the Kidco Hearth Gate is wide enough to access the stove for loading and cleaning. It is a little tight in our hearth area with the Kidco Hearth Gate installed but we wanted as compact of an installation as possible, so this is a reflection on our choices and not the product.
Kidco Hearth Gate Criticism
My one criticism (a very minor one) is that the Kidco Hearth Gate should come with wall anchors. My little monster is pretty rough on this and I don't want it to rip out of the wall, so I consider the anchors to be mandatory.  A quick trip to Home Depot fixed this little over sight on an otherwise top notch product. I can safely recommend this to anyone looking to keep a toddler from climbing on the stove.
The Wrap-Up
I'm a big fan of the Kidco Hearth Gate and after years of use I can whole heartedly recommend it to anyone. It is strong, attractive, and works perfectly. It is the compromise between my wood burning desires and my wife's safety concerns.
Further Reading
I'm Not Crazy I Heat With Wood
Affiliate Disclosure: I am grateful to be of service and bring you content free of charge. In order to do this, please note that when you click links and purchase items, in most (not all) cases I will receive a referral commission. Your support in purchasing through these links enables me to keep the content train rolling