Sun Brewed Iced Tea
Having been raised in one of those odd households where my mother eschewed sugary drinks (yes, all of them! No soda or drink mixes. Nowadays I'm pretty sure that counts as child abuse!). We drank a lot of homemade iced tea, being that I'm far north of the Mason-Dixon line, iced tea means NO sugar. I guess after years of abuse I developed a taste for it and now I make it by the gallon at home.
It really is quite simple and refreshing. The hardest part I find these days is finding a suitable container to make it in. For some reason the big one gallon jugs don't seem to be as easy to come by as they once were. In fact after breaking my last one my Mom had a heck of a time tracking one down for me. She finally found one at the local thrift store.
I make my tea with good ole Lipton. I use 8 bags per batch. I've experimented with different teas but just can't justify using expensive tea in something I've been accused of guzzling. I do on occasion use two "fancy" tea bags in with 6 Liptons to jazz it up a bit. In fact the gallon I've got going right now has 2 bags of Joy from Tazo Tea in it. I find the 2 to 6 ratio yields a good tea without the expense.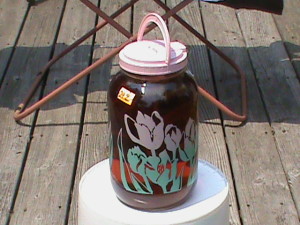 Find a nice sunny spot and let the tea brew for 6 to 8 hours. I usually put it out before I leave for work, so I can come home to a fresh batch.
I hope you enjoy this, it is a family favorite!
Affiliate Disclosure: I am grateful to be of service and bring you content free of charge. In order to do this, please note that when you click links and purchase items, in most (not all) cases I will receive a referral commission. Your support in purchasing through these links enables me to keep the content train rolling