Sourough Biscuits
I was able to get around to using the sourdough starter I made last week on Saturday night. I promised my wife a special Mother's Day dinner and was able to combine a little blog work with some husband duties, which is always nice. I used a bit of a complicated recipe but figured if I could put this notch on my belt I would gain some confidence.
This recipe called for making a Sour Batter Mix before I could dive into the biscuits.
Sour Batter Ingredients
1 cup Sour Dough Starter
2 cups warm milk
2 cup flour
Sour Batter Recipe
Combine all the ingredients in a bowl large enough to allow for expansion (and yes I read the directions well this time).
Cover the bowl and put it some where warm for the night. I like to use the top of the fridge. It seems to be warm enough and the cats can't get to it.
With the Sour Batter mix out of the way the night before it was time to turn my attention to the biscuits themselves. The biscuits had a boatload of ingredients.
Biscuits Ingredients
1/2 cup of Sour Batter Mix
1 cup milk
2 1/2 cups of sifted flour
1 Tbs sugar
3/4 tsp salt
1/4 tsp baking powder
1/2 tsp baking soda
2 Tbs yellow cornmeal
2 Tbs Vegetable Oil
3 Tbs Melted Butter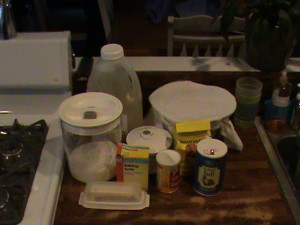 Sourdough Biscuits Recipe
The night before you need to have prepared the Sour Batter Mix, then measure 1/2 into a large bowl. Add the milk and 1 cup flour. Let it sit over night. The rest of the Sour Batter can be added to the starter in the fridge to keep it fed and happy.
When you're ready to make the biscuits beat in 1 cup flour; mixing it in well. Add the sugar, salt,baking powder, baking soda, and the remaining 1/2 cup flour into a sifter. Sift evenly over the dough. With a wooden spoon beat it into the dough with a wooden spoon. Beat it until it is stiff and pulls the stragglers off of the wall of the bowl. Take it out of the bowl and knead it about 15 times on a lightly floured surface. Let the dough rest covered for about 10 minutes.
After the dough has rested roll it out about a 1/2 inch thick. I didn't have a biscuit cutter so ended up using a floured wine glass. It worked just fine but I'm always leery about leaning into glass so just be careful.
A real biscuit cutter is the way to go. They are available on Amazon

.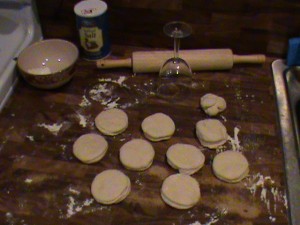 Sprinkle the bottom of a 9″ x 9″ x 2″ baking pan with 1 Tbs cornmeal. Dip the biscuits into the melted butter and oil which have been combined in a bowl. Arrange them close together in the baking pan and sprinkle with the rest of the cornmeal.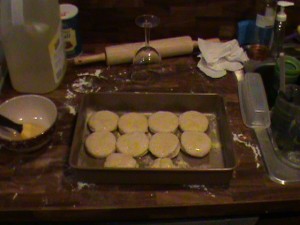 Bake them at 375 F until golden brown. At this point I'd love to show you pics of some golden brown sourdough goodness but thanks to rum punch ( which I HIGHLY recommend) and hungry guests the biscuits sadly didn't get their shot a being immortalized on The Back Yard Pioneer. Don't worry I will be making these again and probably won't be half in the bag and baking.
This recipe adapted from- Doctor Prepper's Making the Best of Basics
Affiliate Disclosure: I am grateful to be of service and bring you content free of charge. In order to do this, please note that when you click links and purchase items, in most (not all) cases I will receive a referral commission. Your support in purchasing through these links enables me to keep the content train rolling